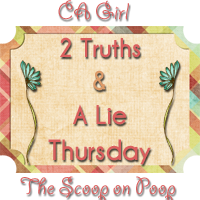 This weekly event is hosted by The Scoop on Poop. This will be my first time joining this event and let's see what happens. Okay so here are the rules:
so the objective of the game is to tell two truths and a lie. Make your guests pick which is the lie of all three.
Here are mine. . .
** I super love chocolate but I wouldn't eat chocolate ice cream, chocolate cake, chocolate muffins. I only eat/enjoy it when it's a chocolate bar.
** I arrange my books by size an height, type (paperback and hardbound) in the book shelf.
** I cry every time. Watching a movie, reading a book, singing a song. Everything, regardless the topic.