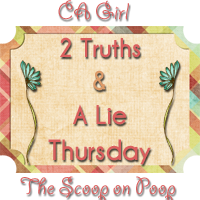 So for starters, I'll be revealing the answer from
last week's post
. I told you guys 2 truths and a Lie. So the lie from last week would be:
I arrange my books by size an height, type (paperback and hardbound) in the book shelf.
Okay so you might be thinking it was the chocolate right??? Well it's quite true that I love chocolate's but I don't like it in the form of a cake, ice cream, marshmallow, or cookie. I don't know why. I just don't find satisfaction in eating it like that. It's always chocolate bars or coins.
So as an explanation for the lie, I don't actually organize my books. I pile them according to order for reading. I have my old books in no particular order in the bookshelf and I have two separate boxes for my TBR. And I don't arrange my books, my partner does it! :)
So Another 2 Truths and a Lie.
** I am a gadget freak.
** I dig older men/women. Most of my celebrity crushes are either bald, have dreadlocks, tattooed or sports an 'unshaven' look.
** I love action flicks.