1. What is your favorite Disco Song?
Favee disco songs would be from the Bee Gees. :) No brainer. Though I am not the disco fanatic but my partner. Wait, we are talking about the disco era right? 80s? Not clubbin' music?? Lol.
2. What is your favorite Soft Rock Song?

Ahhh. This is easy. Bohemian Rhapsody! :D


3. What is your favorite Love Ballad?

Love ballad. Hmmmmm. .. .. No song in particular but a band. Boy II Men are a favorite. On Bended Knees. Four Seasons Of Loneliness. Along those line.


4. What is your favorite hard Rock song?

Mr Brightside. Wait, I think that's alternative. Dunno actually. Ahh though of one, ACDC's Highway To Hell thanks to the television series Supernatural.


5. What is your favorite Pop song?
I don't have a particular favorite but right now I like listening to Billionaire by Bruno Mars. Catchy tune and great video as well.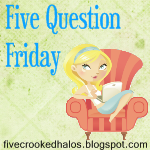 1.
What is the first nightmare you remember?
First nightmare is kind of freaky actually. I was walking in this never ending path. Then after I got scared of walking, I began running. When I though I was seeing a clearing, when I looked at my back I saw flying snapping turtles. :) Like thee Super Mario turtles??? Then when I looked back, I was in the top floor of a building. Then with mailbox in the four corner. With a blink of an eye, I was attacked by snakes who sprung out of the mailbox. :)) hmmmmm. Weird right?
2.
Even if you're not a sports fan, what's your favorite sport to play/watch?
I used to watch basketball (NBA) with my dad and bet with a bottle of soda. Then growing up I lost interest. I was never a sport person. Dreaded sports class.
3.
If you could pull off one piece of trendy fashion, what would you want it to be (

jeggings

, hats, thigh high boots, etc.)?
A low cut, halter backless dress in dark blue. Wait did I say that right? So the dress is a halter style, with a backless-back??? which is low that touches the upper side of the butt. Hmmm. ... .. . I myself am very confused. OR a paper boy cap or what others call a chimney sweep cap.
4. D
id you make good grades in school?
Yes. Been dean's lister in college before I stopped studying.
5. What magazines do you subscribe to?
None. I don't like magazine as much as books. I don't even read the news paper. :D