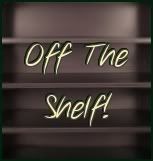 Divine by Mistake by P.D James
What the Birds See by Sonya Hartnett
The Seville Communion by Arturo Perez-Reverte
Wintergirls by Laurie Halse Anderson
Demonology by Rick Moody
The Flirt by Kathleen Tessaro
Riding With The Queen by Jennie Shortridge
The Island by Victoria Hislop
Revenge Of The Rose by Nicole Galland
Shadows Of The Silk Road by Colin Thubron
Frozen Fire by Tim Bowler
The Reluctant Heiress by Eva Ibbotson
Speak by Laurie Halse Anderson
Little Cricket by Jackie Brown
Wyvernhall by Atwater Rhodes
Comeback by Claire Fontiane
By The Lake by John McGahern
The Nature of Monsters by Clare Clark
The Drowning Tree by Carol Goodman
Stones From The River by Ursula Hegi
Devil in the Details by Jenifer Traig
Driving With Dead People by Monica Holloway
Open Me by Sunchine O'donnell
The Dead Travel Fast by Deanna Raybourn
Tom And Huck Doesn't Live Here Anymore by Ron Powers
Already made a post about the challenge but decided that I make a separate post for the list.
I've got more but it's hidden in my room somewhere, will definitely update the post regularly.
I am currently in "Making A Dint" level which include 30 books but I think the list will grow longer when I find some of the books. :)
To learn more about the challenge, click
HERE.